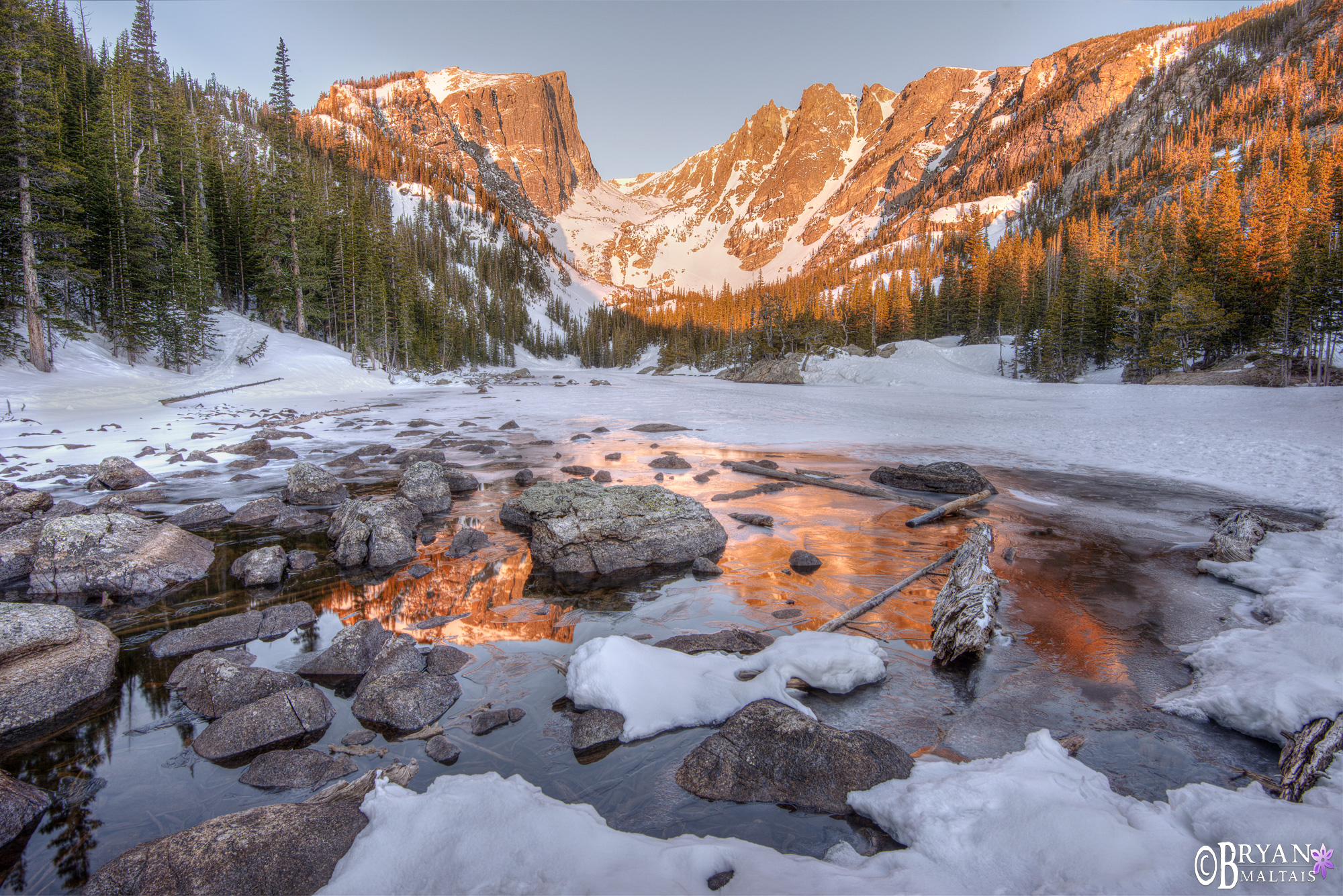 Best Colorado Landscape Photography Locations
Colorado's Top 10 Landscape Photography Spots
Though Colorado is brimming with landscape photography opportunities, this list of best Colorado landscape photography locations includes the spots that have been the most productive for me.  If this was a comprehensive list I might have also included great photography spots like Great Sand Dunes and the Sangre de Cristo Mountains, Dinosaur National Monument, Grand Mesa, Colorado National Monument, and more.  Also to note, it was difficult rating the best photography locations from top to bottom; you could truly photograph any of these locations and walk away happy. So take the 1 through 10 positions with a grain of salt.
Colorado San Juan Mountains (Positions 1,2,3)
The Colorado San Juan Mountains are a landscape photography wonderland with the BIGGEST views in Colorado.  Though the order of other photo locations on this list are negotiable, for me the San Juan Mountains have given me my best landscape photos in Colorado. Why? Within a relatively small area, the San Juan Mountains are packed with one great composition after another, both on road or and in the backcountry.  For the 4×4 photographer, there are plenty of jeep trails and mountain passes to explore, which is a separate blog in itself.  In the San Juan Mountains it's very convenient to base yourself in Ouray, Ridgway or Telluride to quickly reach dozens of targets.  The San Juan Mountains truly offer some of the best Rocky Mountain Landscape photography, and here are the top photo spots, but by no means all of them:
1. The Ridgway Area (CR-5, CR-7, CR-9, Mt. Sneffels Overlook and Last Dollar Rd.)
Ridgway (with no "e") is a Rocky Mountain frontier town with unpaved roads, more cowboys than yuppies, and a bar that can still call itself a "saloon".  It's usually where I base myself while in the San Juan Mountains because it's a stone's throw from 5 heavy-hitting photography locations.
The County Roads (Cr-5, CR-7, CR-9)
CR-5 begins at the southwest corner of Ridgway off S. Amelia St. and winds several miles on a gravel road.  Here, the primary photo opportunity comes at the end where you suddenly find yourself a stone's throw from the Sneffels Range across a valley.  The valley is filled with cattle and impressive aspen stands.  The view is jaw dropping when you come around the final bend because you come so close to the Sneffels range, and is one of my favorite, classic Colorado shots.
After CR-5, head back to Ridgway and then west on Hwy 62 to reach CR-7. CR-7 has several good photos along the way, but the real magic comes at the end where you'll be presented with a huge view of Mt. Sneffels.  There are different ways to photograph it either from high up on the road or down in the valley, which has a split rail fence, a stream and several beaver ponds.
Further west on Hwy 62 is CR-9.  It doesn't provide a single notable composition, but of the 3 country roads, it offers the most continuous photo opportunities along the way.
In dry weather any vehicle can handle the county roads, including basic sedans. Expect frequent washboards though, and things may be a little dicey when wet.
Dallas Divide Overlook
West of CR-9 on Hwy 62 you'll come to the Dallas Divide overlook.  It's a big gravel lot on the south side of the road that you can't miss.  Though it may be low-hanging-fruit, the view still makes for one of the best fall colors landscape photos in Colorado.
Last Dollar Rd.
Last Dollar Road is an epic photographer's playground because it's so long, covers many elevations, and winds around the north and south faces of the Dallas Divide.  It cuts the corner between Hwy 62 and Telluride, and is missed by many people.  After it traverses the Dallas Divide, you'll be on the Telluride side and in for another round of breath-taking shots. Last Dollar Road passes spectacular aspen groves, big mountains, pioneer structures, split rail fences, and ranches.  For the serious photographer, it's worth devoting an entire day to Last Dollar Rd, working your way in either direction for sunrise, and then back again for Sunset.
Last Dollar Road is negotiable by sedans in dry weather, though you will scrape bottom in a few spots, encounter minor stream crossings, and be on shelf roads at times.  Though I have seen subcompacts negotiate this road in the dry, if it rains or snows, a sedan is quite unsafe and will get stuck, or worse.
2. Owl Creek Pass
Cimarron Rd./858 winds between Hwy 50 and Ridgway, and travels past spectacular Owl Creek Pass.  Owl Creek Pass, south of Silverjack Reservoir, is one of the best Autumn panoramic photos in Colorado.  If you're making a Colorado photography road trip from north to south, it's efficient to stop at Owl Creek Pass on your way to Ridgway after you've visited Crested Butte.  Instead of driving on Hwy 50 and then south on Hwy 550, head west on Hwy 50 and then south Cimarron Rd.  In dry weather there are no difficult sections on this gravel road, but it has pretty bad washboards, and the descent into Ridgway is very winding.
3. Blue Lakes, Ice Lakes and the Weminuche Wilderness
These areas offer some of the best backcountry landscape photography, and are bigger and more jagged than photos attainable by road.  Blue Lakes and Ice Lakes are day hikes, but are so composition rich that most photographers wouldn't mind spending a few days there.  The Weminuche is Colorado's largest wilderness area, and requires a lifetime to explore.  Most photos in Blue Lakes, Ice Lakes and the Weminuche take place above above aspen treeline, therefore make for better summer photography than fall colors photography.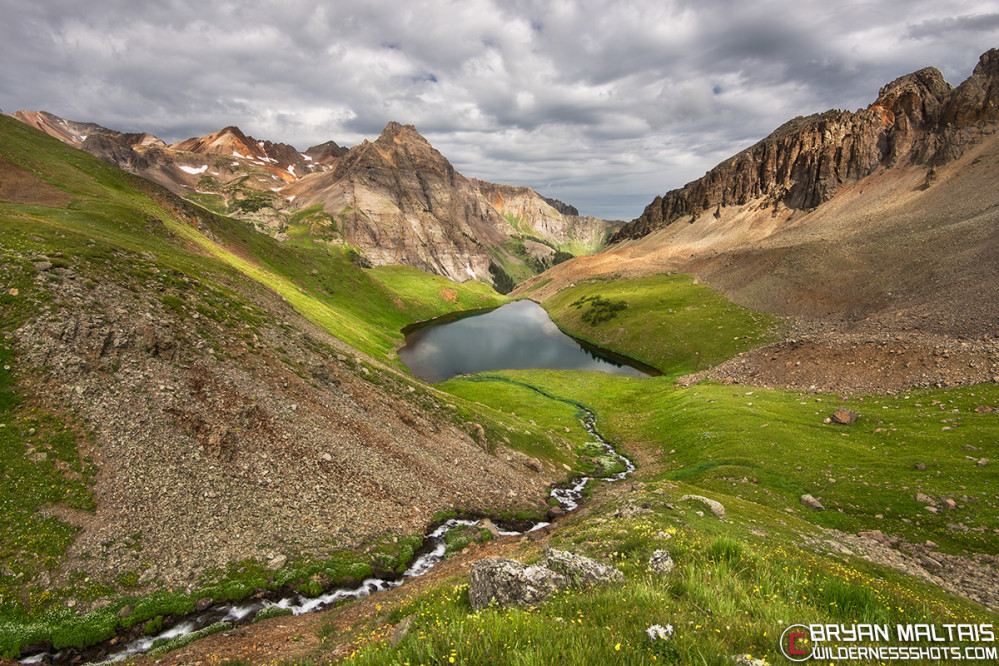 Crested Butte, Colorado (Positions 4,5,6)
Kebler Pass Road
Ohio Pass Rd
Washington Gulch Rd. and Gothic Rd.

4. Kebler Pass Rd.
Crested Butte is off the beaten path compared to other Colorado mountain towns, which preserves its rugged feel.  Crested Butte's real draw for photographers is Kebler Pass Rd., (CR-12), arguably the single most heavy hitting drive in Colorado for landscape photography, and possibly in the entire lower 48.  It's surrounded by conical peaks and sweeping aspen valleys. It's fantastic for either fall colors photography, or summer wildflower photography (around July 15th).  Some of the notable shots on Kebler Pass Rd. are The Dyke, East Beckwith Mountain, West Beckwith Peak, Ragged Peak, Lost Lake Slough, and Marcellina Mountain.  There are plenty of day hikes along the road, and you can simply pull off and aimlessly wander through the particularly spectacular aspen forests.
 
5. Ohio Pass Rd.
Heading south off Kebler Pass Rd. is Ohio Pass Rd (CR-Rd 730).  In contrast to the National Forest backdrop of Kebler Pass Rd., Ohio Pass Rd. is mostly ranch land with incredible backdrops of steep peaks.  You get a great view of the Castles from the top of Ohio Pass, and there are countless "secret" hikes to explore. If you're taking a fall colors photography tour through Colorado, it's likely that you'll be heading south to the San Juan Mountains after visiting Crested Butte .  If that's the case, you should head south on Ohio Pass Rd. to reach HWY 50 instead of using HWY 135 to reach Gunnison.
6. Washington Gulch Rd. and Gothic Rd.
Washington Gulch Rd. is best experienced as summer drive for wildflower photography.  It's a short side trip if you're already in Crested Butte and yields stunning photos with Gothic Mountain and Mt. Crested Butte in the background.
Gothic Rd. is a longer drive with plenty of interesting landscape photos, backcountry trails, and a ghost town (turned research station).  If you have a capable 4×4 and nerves of steel, Gothic Rd leads up to the famous and dangerous Schofield Pass, which takes you down to the Old Crystal Mill, Lizard Lake, and the town of Marble.
 7. Indian Peaks Wilderness
Indian Peaks Wilderness is Rocky Mountain National Park's less refined sibling.  It's strictly a backcountry photo location and packs the best photography in Northern Colorado.  That's a hefty claim against RMNP, I know.  In my experience, the trails in Indian Peaks have multiple photo compositions along the way, whereas most trails in RMNP are single destination shots.  It's less regulated, less expensive and less crowded than RMNP, and therefore is easier to "use" for the photographer.  My favorite hike in Indian Peaks, and one of the best in Colorado, is the Crater Lake trail to the base of Lone Eagle Peak.  This trail produced 3 of my all time best photos from Colorado on a single trip.  For shorter day hikes, my favorites are Blue Lake and Lake Isabelle, which both originate at the Brainard Lake trail.
8. Rocky Mountain National Park
I probably needn't explain why Rocky Mountain National Park is one of the best Colorado landscape photography locations.  Just know that roadside photography doesn't do it justice, to get the best photos you must head into the backcountry.   My favorite backcountry photography area in Rocky Mountain National park is  the Glacier Gorge region.  If you enlarge the topo map to the left you can see why; steeply gouged glacial valleys make for dramatic photos.  To get there, drive to to the end of Bear Lake Rd. and pick any trailhead.  It doesn't matter which one because each trail ventures to a stunning alpine lake with steep mountain walls behind it.  Black Lake, The Loch, Sky Pond, Mills Lake, Dream Lake, etc… are all incredible.  Photographing in Rocky Mountain National Park is challenging because most shots are east-facing sunrise photos.  To reach most of them in time, you basically need to leave your house the night before and begin hiking in the dark.  Dream Lake however, which is the featured photo at the top, is a very short 45 minute hike (in the snow).  Being a National Park and not a National Forest, backcountry camping is somewhat more tangled in red-tape.   Advanced reservations are needed to avoid fully-booked camp spots, and there are higher fees.  In Summer, hiking before sunrise at this elevation can still be quite chilly and requires a jacket.  In June, the higher trails are often still covered in snow. In Winter, when standing in the open on any of the frozen lakes, plan for the most brutal, arctic conditions imaginable, with hurricane-force wind.  The Winter wind has blasted my eyes so fiercely at times that I teared profusely and the salt water froze on my lashes upon hitting the air, forming ice chunks around my eyes.  You can't wear goggles while framing shots 😉
9. Boulder Flatirons
The Boulder Flatirons are an easily accessible photographer's playground, and can prolifically produce a cornucopia of  keeper photos in just a morning's work.  I think they're the best Front Range photography location in Colorado, although Red Rocks and the Garden of the Gods might take offense.  A lot of Denver/Front Range photographers like the Flatirons for different reason in different season.  The Flatirons in Winter are magical at dawn after a fresh powder drop.  I've gotten my best photos here during the Front Range's wildflower season (May-June).  At this time you can photograph dozens of low-mid elevation wildflower species with the Flatirons towering in the background.  The best locations to capture a wide shot of the Flatirons are Chautauqua Park and Flatirons Vista Open Space.  The flatirons are an interesting photography location because the ecocline between prairie and foothills ecosystems brings biological diversity. There's a web of hiking trails to explore.  Wandering around in the springtime after an afternoon shower with flowers blooming, frogs calling, and wetland birds returning is one of my favorite Colorado experiences.
10. Maroon Bells
I begrudgingly include Maroon Bells as one of the best Colorado landscape photography locations because it's unverifiably the most photographed mountain scene in America, and a top selling print for most Colorado landscape photographers.  This is simply because it's a jaw dropping photo that most photographers can capture if conditions are right.  Personally though, if I'm short on time, Maroon Bells is the first place I'll skip.  That's because it's an easy composition that anybody with a camera can make look good, and during fall colors at sunrise, you'll be elbow to elbow with hundreds of photographers crowding the shores of Maroon Lake.
It's still a gorgeous scene, and though everybody and their 3rd cousin has "THE SHOT", there are still a lot of alternative compositions and hikes to explore.  I suppose the real challenge to photographing Maroon Bells is being there for "once-in-a-decade" conditions when the Bells are at peak fall colors with a dusting of snow, a perfect reflection on the lake, golden sunrise, and good clouds.
 Where to Sleep and what kind of Vehicle to Rent in Colorado
When conditions are dry, all of the destinations and trailheads on this list can be reached in a sedan, however they will be bumpy, and unreachable in rain or snow.  In the Colorado high country, being caught off-guard by a major blizzard during fall colors is very common, and even possible in July, which would maroon most sedans.  Therefore, a basic SUV, cross-over or at least a Subaru would be best.  A Jeep or dedicated off-road vehicle is not necessary unless you plan on making a side trip on a 4×4 trail or backcountry mountain pass.
As for lodging, the main point I'd like to convey is that free (or cheap) Nat'l Forest camp sites are frequent throughout the San Juan Mountain and Crested Butte areas-you just have to look for them.  Not much can top waking up to the rich smell of golden aspen leaves covering the forest floor, and Elk bugling in the evening.  I can usually find camp spots very close to my shooting locations.
I don't know much about staying in Hotels because I sleep in my truck (or tent at the listed backcountry locations), but I do know that rooms are expensive in the Mountains, and reservations are hard to come by during peak wildflowers and leaf-peeping season.