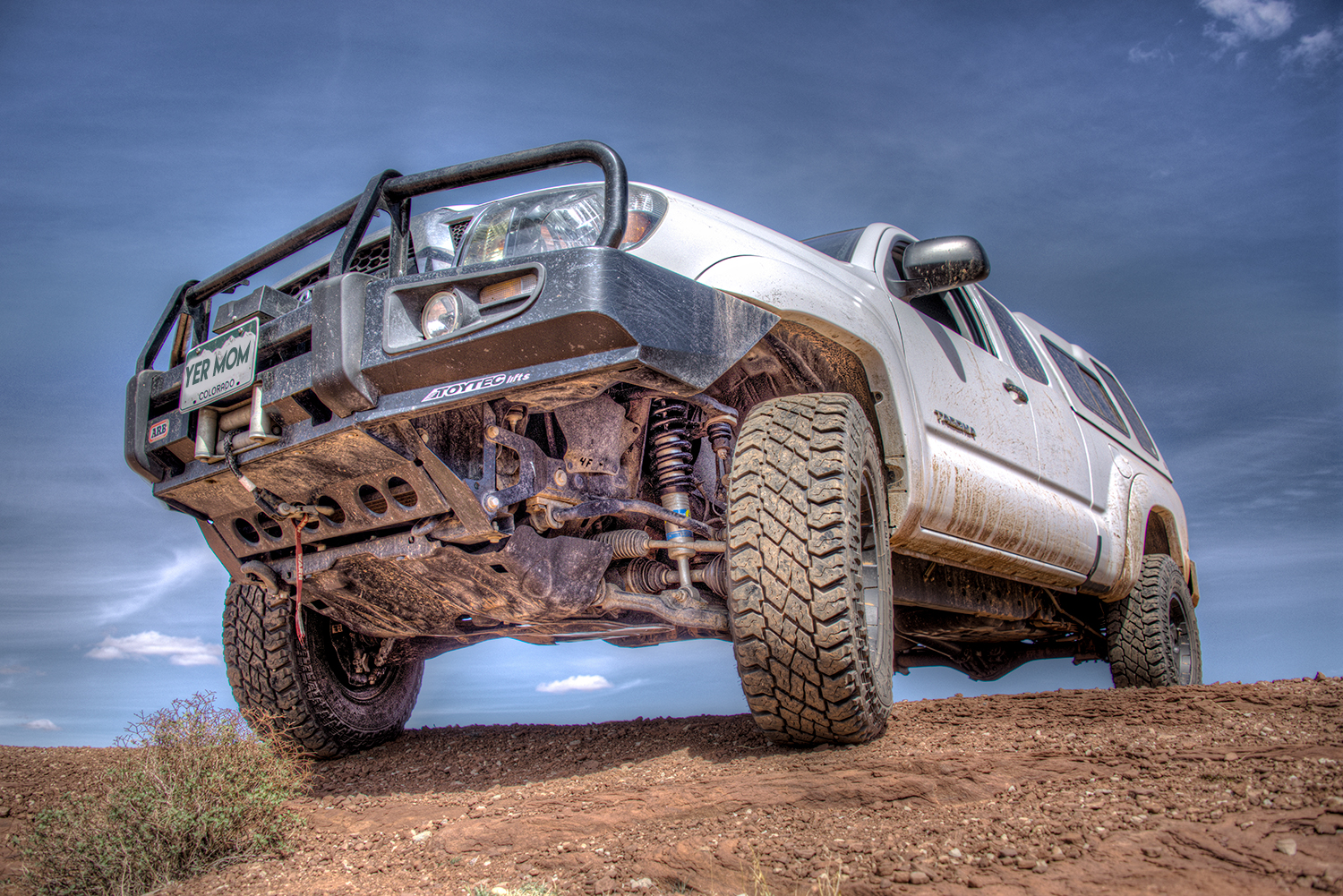 Background
You shouldn't necessarily take this blog as a guide on how to build your own truck into an overlander because I'm just a photographer trying to figure it out, not a hardcore truck guy.  This is about my personal experience preparing my Tacoma as an overlander. As for my mechanical skills, I let shops do the heavier stuff so that none of my wheels flew off and rolled into a canyon.  In the end, I feel that I've ended up with a very capable overlander rig that I love to drive and look at. My happiness owning such a truck stems from the limitless freedom that it gives me to explore.
I began exploring the backcountry with my camera years ago in a 100% stock Ford Ranger with no special features or modifications.  There were few places this simple truck didn't get me.  I think that being forced to do hard things with basic equipment is the best way to learn, much like I learned photography with a manual film camera from 1970.  Then I came across my Tacoma and it was a deal I couldn't pass up. After years of pushing that little Ranger to the brink of its abilities with white knuckles, now the most extreme trails seem easy in my purpose-built Tacoma overlander.
Truth be told, you don't need a modified truck for photography in the Colorado Rockies.  The best places are reached by foot and backpack, and most trailheads can be reached by sedan.  The truck is for adventure, and can take you to "extra" places.  I like to link remote mountain towns together by way of back country trails instead of highways.
This video shows my Tacoma negotiating the Fins n Things slickrock trail in Moab, Utah. It demonstrates how well this overlander can handle large obstacles, but how dedicated off-road rigs like Jeeps can handle steep angles of attack better with their shorter wheel base.
The overlandeing mods that I've done were dictated by what I need out of my truck. I won't be trekking across the Gobi Desert or traversing Iceland's lava fields. I mostly go on photography excursions in the Colorado Rocky Mountains that last about 2 weeks.  This includes long highway stretches and long off-road trails.  Off-roading in Colorado entails Jeep trails over high mountain passes that are often made of bowling ball-sized boulders. They usually have shelf sections with space for only 1 vehicle, obstacles high enough to scrape bottom, steep loose inclines, and frequent stream crossings (but nothing deep enough for a snorkel). Rain and snow happen in any month at high elevations, which can turn narrow rocky trails slippery and dangerous (e.g. the formidable
Schofield Pass
). For the sake of adventure, I often avoid re-supplying and driving through towns for as long as possible, therefore I use my bed to store cargo and I bring extra fuel with me.  I also sleep in my truck.  These are the overlanding conditions that I had in mind when modifying my truck.
My aim therefore, was to build an efficiently traveling overlander that can tackle extreme terrain without over-building it.  Since I've negotiated Colorado's hardest trails in just my stock Ranger, I didn't feel the need for more extensive mods like gas shocks, extra lights and snorkel.  Fatter tires and further body armor is for rock crawling.  And since the only time I spend in my truck is driving and sleeping, I didn't bother with camp accommodations like electrical system for a  fridge and fold-away kitchen.
Vehicle: 2011 Toyota Tacoma TRD
Among the useful overlanding features on this adept truck are rear differential locker, traction and stability control, and a 250 hp engine (with cold air intake) that produces 266 lb-ft @ 4000 RPM of torque. The locker makes this truck nearly unstoppable. I've easily tractored up steep loose hills that would have halted non-locked trucks that I've driven. Most excellent is the selective manual transmission with 4-low, which lets you crawl down steep hills without using the brakes. My Tacoma is the "access cab" instead of a 4-door, which I prefer because it gives me the 6′ long bed for maximum living/sleeping space. On the highway my Tacoma is smooth, quiet, and comfortable to drive after hundreds of miles.  The only minimal drawback of the Tacoma is its length.  Jeeps and old generation Tacomas have a tighter turning radius around hair-pin turns, and better angle of departure on dips.  I've hit my rear bumper on deep dips, and had to make multi-point turns on switchbacks. These problems have never halted a mission, just added some seconds on to maneuvering. I would surely consider the Hilux with a long bed as an overlander platform if it were sold in America, but I digress.
Problems at First
I bought my Tacoma already partially built, but almost everything was set up wrong. I found this truck at a dealership who wasn't equipped to charge for the add-on equipment, so I got a free lift and body armor.  They most likely only paid the original owner OEM trade-in value.  Upgrades included an ARB bumper with Warn winch, rear bumper with spare tire carrier, larger tires, and Toytec Ultimate Lift.
The Warn winch was broken beyond economical repair and needed replacement (Warn was no help in this matter). The rear end sagged, so I installed an add-a-leaf to level it. The larger than stock tires rubbed hard on the control arms during sharp turns so I added 1.25″ spacers and upgraded to rims with offset. The Toytec suspension was adjusted to its highest position, which stressed the front end components and caused the upper control arms to crack on both sides at the welds. Toytec was gracious enough to replace and install the new control arms au gratis, even though I wasn't the original owner.  I can't say enough about how nice the guys at Toytec were.
It took a few overlanding adventures for me to identify all the bugs, but now that I've fixed them, I have a great vehicle for my purposes.
Wheels
Rubber: Cooper Discovery A/T Maxx 255/85 r16 Tires
When it was time for new tires I switched from 265/75 r16 General AT2 Grabbers to the 255/85 r16 Cooper Discovery A/T Maxx .  The Generals were effectively 31.9″ in diameter, 10.5″ wide, and 57Lbs. The Coopers are 33″ in diameter, 10.2″ wide, and 53 Lbs.
As you can see, I went to a taller, thinner and lighter tire, which I think works better for overlanding. I wanted to increase tire height to gain lift without increasing width, which would reduce fuel efficiency. Thinner tires are more fuel efficient because they have less rolling resistance, and taller tires are theoretically more fuel efficient on HWY because it takes fewer engine rpm's to spin the wheel.  Somebody can no doubt explain the physics better than me.  There aren't many tires on the market with such dimensions, and it took some research to find the Coopers. They're also 4 Lbs lighter, which means less unsprung weight to brake and get rolling again.  While fat tires are good for rock-crawling, a thinner tire with an all-terrain tread still gives plenty of traction for overlanding, especially when aired-down.  In reality, I might not end up noticing any difference in fuel economy, but avoiding extra tire width and weight probably can't hurt.
None of my local tire stores stocked the Cooper so I had to special order them.  By ordering them through a chain tire dealer, I got free lifetime rotation and avoided shipping charges.  As for aesthetics, my truck looks poised for attack riding on the tall Coopers.
Do they rub? When deflated, the tires caught the tip of the fender on the inner wheel well just slightly when turning.  I simply cut off the tiny section of plastic that was in the way with a Sawzall.  The plastic used on the fender is an extremely flexible composite that won't snap when caught by the tire tread.
Rims: MB Wheels "Razor"
When I bought my Tacoma, the larger than stock tires rubbed against the upper control arms when turning. I switched to the Razor wheel to gain offset, which places the tires further out from the truck and away from the control arms.  I also added 1.25″ spacers. In effect, the distance that the wheels now extend out from the truck is modest, but gave aesthetic balance to the super tall Leer topper.  As for appearance of the rims, I don't like shiny bling, and the Razor's circular spoke pattern with matte black finish achieved a tough military look. I was readily able to sell my original Toyota wheels on Craigslist.
Inflation/Deflation Equipment
I air-down my tires from 45 lbs to 15 lbs when I drive off-road.  The ride on fully inflated tires is bone rattling. The increase in traction and comfort at low pressure is humongous, and lets me "float" over the trail with impunity. This is why I carry equipment to quickly air-down and air back up.
Airing back up is a huge time drain, therefore I sought the highest capacity (fastest) portable air compressor possible.  The $150 Superflow is what I found without resorting to mega-expensive on-board models. It takes about 4 minutes to inflate each tire from 15 lbs to 45 lbs. It's powered by attaching the supplied alligator clips directly to the battery with the vehicle running. Because it's a given that I will air-down my tires when off-road, my compressor rides in my cab and not stowed in my emergency chest.
Tire Deflators
Manually deflating each tire also wastes a lot of time, therefore I have a set of screw-on brass tire deflators. You adjust them to the desired tire pressure, screw them on to each valve, and then drive off as they do their job. They automatically stop deflating at the desired pressure.  All of the tire deflators on the market seem to be similar if not exact copies of each another.  My cheap ones work well.
Toytec Ultimate Lift
This lift came with my truck, improperly installed. The lift height was adjusted to its maximum, which "stretched" out my front end geometry and over-stressed the components.  It also made the ride unbearably stiff.  It caused the welds on both upper control arms to crack, a potentially dangerous situation.  Toytec fixed it for me, no questions asked.
Body Armor
ARB Deluxe Bumper with Bull Bar
My truck came already equipped with this bumper. It's a proper place to mount a winch, has jack points for a Hi-lift, and provides protection from animal/object impacts. On extremely steep descents you can dig your front nose into the ground on landing without damaging the truck.   It also adds a lot of weight, decrease aerodynamics, and requires fortified front suspension to compensate for sag.  Whether it's more form or function is arguable, but this full-sized ARB bumper is certainly the the magnum opus of bad-ass kit to achieve a brutal look.
At least it'll come in handy the next time I have to crash through a herd of cows.
Rear Bumper with Tire Carrier
Mounting the spare tire on the swing arm of the rear bumper gets it up out of harm's way from under the truck. I also use it as a ladder to climb up to my roof platform.  It's a good place to mount a spare fuel tank too. The rear bumper is a safe place to "grind" on extremely steep angles of departure. I have a "Body Armor" rear bumper, which isn't made with the highest quality precision, but works.
Warn VR 10,000 lb Winch
Though I haven't used my winch for an actual predicament yet, I successfully tested it by pulling my truck up a steep slope anchored to a tree using a double line. The winch, combined with my rear locker and generous ground clearance significantly reduce my chances of getting stuck, as long as I don't drive stupidly. To use the winch I also carry the recovery equipment below.
Recovery Winch Equipment
Recovery strap/Tree saver
D-ring shackles x 2
Snatch block (pulley)
Work gloves
It's not a bad idea to carry multiple of the above items if you want to be über prepared for situations like angle, reverse and multi-line winching.
Rotopax 4 1/2 Gallon Fuel Can
I don't necessarily use a spare fuel can in case I run out of gas, rather, it's a range extender for being able to stay in the back country longer before returning to town to refuel.  My truck's range is 250-300 miles per tank so it's not likely that I'd ever actually drive that stretch in Colorado without passing a petrol station unless I planned poorly. When traveling, I stop for gas whenever I pass a station with half a tank or less.
I've never actually resorted to using my spare fuel. What it lets me do is run down to empty before heading back to town without getting nervous.
There was no place to mount the Rotopax fuel tank to my truck so I found a metal L-bracket and attached it to my tire carrier by drilling bolt holes into the metal.
The environmentally friendly, mandated fuel spout that the Rotopax comes with is infuriatingly difficult to use, and takes about 10 minutes to empty the 4.5 gallons into the tank because it causes a vacuum where the spout inserts into the tank.  I'd be all for it if I believed that it was actually green.
Leer 122 Topper
I opted for this tallest topper on the market because I sleep in my overlander and need the head space. Sometimes harsh conditions outside make it nice to arrive at a destination late at night and jump into ready-made quarters rather than setting up a tent. I also needed a sturdy topper that can support my weight standing on the photo platform. Leer states a maximum weight of 150 Lbs, and though I'm 30 Lbs over that, I haven't heard cracking yet. Shorter toppers that are level with the cab look cooler, but the head space isn't high enough with the sleeping deck that I built. The topper adds about 200 Lbs.
I installed foam weather stripping around the cracks in my tailgate to dust-proof the sleeping space, which works OK, but is far better than going without.
Roof Rack/Cargo Basket
Because I have a capacious camper shell, I don't actually need to carry cargo on my roof rack.  The roof rack serves as an elevated photography platform.  Getting high can often give a much better perspective of a subject than looking at it from ground level.  Nonetheless, the roof rack can still accommodate a heavy load strapped to it if need be, but I'd rather avoid the drag and top-heavy weight.  I made this basket out of a used warehouse "wire pallet rack". Click here for how I built the roof rack basket. The rack cost me $5.00, the hose clamps about $8.00, and I picked up free black spray paint from my city's landfill that residents dropped off.
I use Thule cross-bars mounted on a track with adjustable position.
Sleeping/Cargo Deck
The sleeping deck lets me stow cargo underneath while giving me a comfortable sleeping platform.  It effectively doubles the usable space in my truck's bed. I wanted maximum open storage space underneath the deck so opted to build a "stilt" deck rather than a "drawer" type deck.  At 14.5″ tall, gear easily fits underneath the deck, while being a comfortable height to sit on.  You can place only 1 section into the truck for a single sleeper while keeping half of the truck bed open, or 2 sections to form a large flush floor for 2 sleepers (or for 1 sleeper to sprawl out). The whole deck lifts out of the truck in seconds for full use of the bed. I built flip up panels in the deck to access the cargo space underneath.  For further comfort it's fully carpeted.
I always aim to use upcycled materials for my DIY builds.  I was able to find most of the metal hardware and wood used at my local ReStore, I scored refuse carpet from a friend, and had scrap 2×4's lying around from projects.
Window Coverings
Water and Food Storage
For water I bring a 7 gallon jug with integral spigot.  It's a veritable sink with flowing water, and holds enough water to last at least 1 week.  I use it to wash, fill my Nalgene bottle for hikes, clean dishes, cook, etc… Each time I stop at a gas station, I fill my Nalgene bottle with water and pour it into the jug to keep it topped off.  In the backcountry I just stop at a river and filter water directly into it.
I store my food and utensils in a large plastic cooler, not to keep anything cold, but because it's sturdy. It slides right under my sleeping deck, but I have to remove the lid for it to fit.  Inside lives a large pot, camp stove, canned veggies and chicken, instant rice, oil, garlic etc… I cook big pots of "dinosaur stew" that last at least 3 meals.  I also usually bring along 5 lb bags of oranges.
Emergency Box
I use a sturdy plastic chest that fits perfectly beneath my sleeping deck to store emergency equipment. It rides permanently in my truck.  To anchor the chest, I removed the stock D-rings located at the back of the Tacoma's bed and repositioned them at the front (cab end) by drilling holes directly into the bed.  I then secured the chest to the D-rings with ratchet straps.  The emergency chest contains the following items:
Jug O' Zip Ties- I use these all the time for unexpected things that need to be held in place
Ratchet Straps- For securing cargo in the bed and strapping items to the roof basket
Duct Tape- Need I explain?
Flat Repair Kit
Extra Coolant
Extra Oil
Extra Serpentine Belt
Socket/Crescent Wrench Set
Allen Wrenches
Vice Grips
Adjustable Wrench
WD40- Many uses including getting seized parts unstuck
Radiator Sealer
Hose Clamps- For very tightly holding things together that have come apart
Philips/Flathead Screwdrivers
Heavy Shirt
Parka
Snow Pants
Hat
Knit Cap
Datrex Survival Bars
Gloves
Old Hiking Boots
Tire Chains
Jumper Cables
Shovel
Candles- For romantic dinners in the bush
Lighters- Because if your truck won't start in Winter you may need a fire
First Aid Kit
Fire Extinguisher (in cab)
Bow Saw
Aquarium Air Hose- For siphoning fuel if need be
When overlanding I also have my back country backpack along by default, which includes additional survival items such as compass and maps, water filtration, cuttlery/axe, and more extensive clothing.
Spare Battery
The most common vehicle breakdown that I've experienced in daily life or in the backcountry is dead battery. Where in civilization you can just grab a jump, in the backcountry I've been marooned by a dead battery. Funny that such a simple problem can sideline a trip.  That's why I carry a  full-sized spare battery in my truck.  I've tried jumper boxes, but they've proven extremely unreliable for me.
Hi-Lift Jack with baseplate
I carry a Hi-Lift jack because in the event of a wheel replacement, the Tacoma's stock bottle jack falls far short of the reach needed to raise the truck with a body lift and larger tires. The question is where to carry/mount an unwieldy object like the long, 30Lb Hi-lift. I ruled out mounting it anywhere on the outside of the truck, especially the front bumper or roof rack, because serious off-road trails can become turbulent enough to rattle anything loose (as I've learned). The potential to snag obstacles would also be high. I didn't want the seriously big Hi-lift obstructing my bed either because I sleep back there, and constantly haul gear in out. So for now when I go overlanding or off-raod, I un-gracefully store the Hi-lift on the floorboard of my back seats. Piling my backpacks and gear atop it keeps the Hi-lift surprisingly snug and quiet.
Electrical Power
My only electrical need when overlanding is to be able to recharge my camera equipment while driving.  A simple DC to AC power inverter strip accomplishes this and fits neatly in the Tacoma's center console.  Adequate models cost from $15-30 at auto parts stores, Wal-Mart and even truck stops.  I've been using this system for years on the road to power up my mobile phone, laptop, GPS and camera batteries.  Maybe I'd consider a solar system or a separate accessory battery if I lived out of my truck for months at a time, but otherwise, there are no appliances that I desire to run while overlanding.
Modification Summary
Cooper Discovery A/T Maxx 255/85 r16 Tires
1.25″ wheel spacers
MB Razor Rims with offset
Toytec Ultimate Lift
ARB Deluxe Bull Bar
Warn VR 10,000 Winch
Body Armor Rear Bumper/Tire Carrier
Rotopax 4 1/2 gallon Fuel Tank
Rear Add-a-leaf
Leer 122 Topper
Thule Tracked Roof Rack
DIY Roof Rack Basket
DIY Sleeping Platform