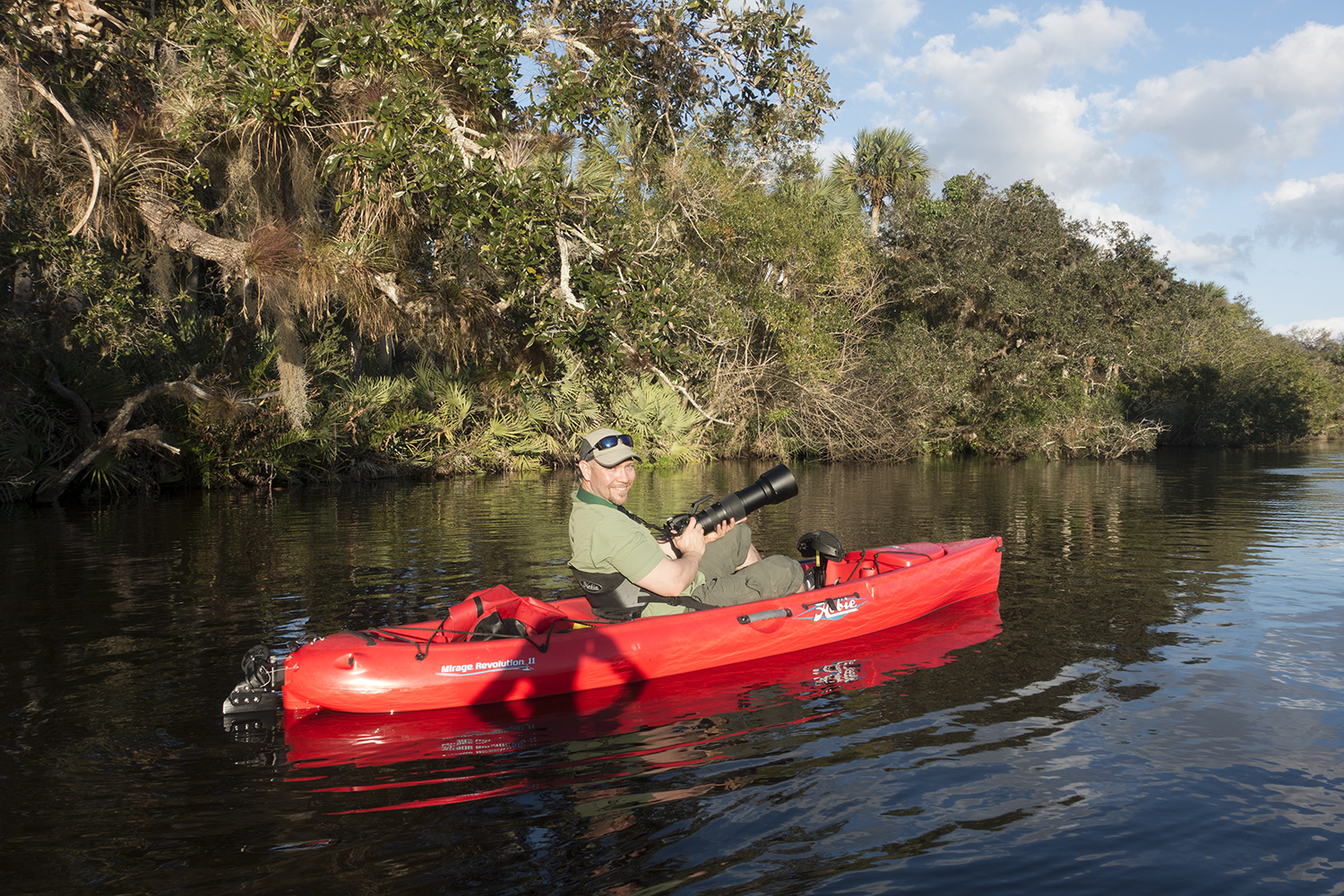 Sebastian, FL
Feb 20,21 2016
This wasn't necessarily a photography trip to bag keepers for my portfolio, but  just a fun weekend getaway to catch some sun after a long dreary Winter. The main activity was drinking Florida coconut beer with an old friend as we floated through mangrove jungles. Nonetheless it was still a fun photography adventure.
I encountered Manatees and a huge Sea Turtle that surfaced right by our boats. You couldn't detect even these huge animals until they surfaced for air because the water was the color of black coffee and nearly opaque. The sky was filled with a plethora of large birds fit for an Attenborough special. Soaring above were Osprey, Vultures, Pelicans, Sandhill Cranes, White Ibis, Spoonbill, Cormorants, Anhingas and various Egrets & Herons.  We paddled through salt water bays, and up inlets where the water turned fresh. I had the pleasure of using a foot peddle kayak for the first time, which cruised quickly and forcefully through the water without need for a paddle.
This was a great opportunity to test out Nikon's new 200-500mm ultra zoom that I just picked up to replace my old Nikon 80-400mm.  This post isn't an empiric lens review, just a quick blurb to share some pretty pictures.  To summarize, the 200-500mm is incredibly sharp for an inexpensive zoom. At about $1,300, that's super cheap for this level of performance.  It rivals the resolution produced by prime lenses and is now the sharpest zoom that I own. Its bokeh is smooth and beautiful, though perhaps not quite to the extent of Nikon's 500mm f/4 prime. The vibration reduction is now a mature technology and works flawlessly. Sharp handheld shots in overcast light without resorting to high ISO are quite possible.